Polysiphonia Life Cycle
Red algae have one of the most complicated life cycles. Seriously. But they're so gorgeous to draw, so I forgive them.
Ulva Life Cycle
Ulva are fascinating because the two adult forms look identical on the surface.
Padina Life Cycle
I wasn't familiar with the Padina genus of algae until I started drawing this life cycle. They're so beautiful in person--these lovely fans with amazing color and texture. Another fascinating life cycle, too!
Codium Life Cycle
This is an unusual alga because it's siphonous. This means the ENTIRE organism is made of one giant mult-nucleated cell! Algae that can be meters across are all (technically) a single-celled organism!!
Tetraspore Arrangement
The spores of algae are arranged in packs of four. That arrangement, it turns out, can be key to identifying the type of algae you have. It take a lot of experience to be able to properly identify the spore arrangement, but hopefully this drawing will help students.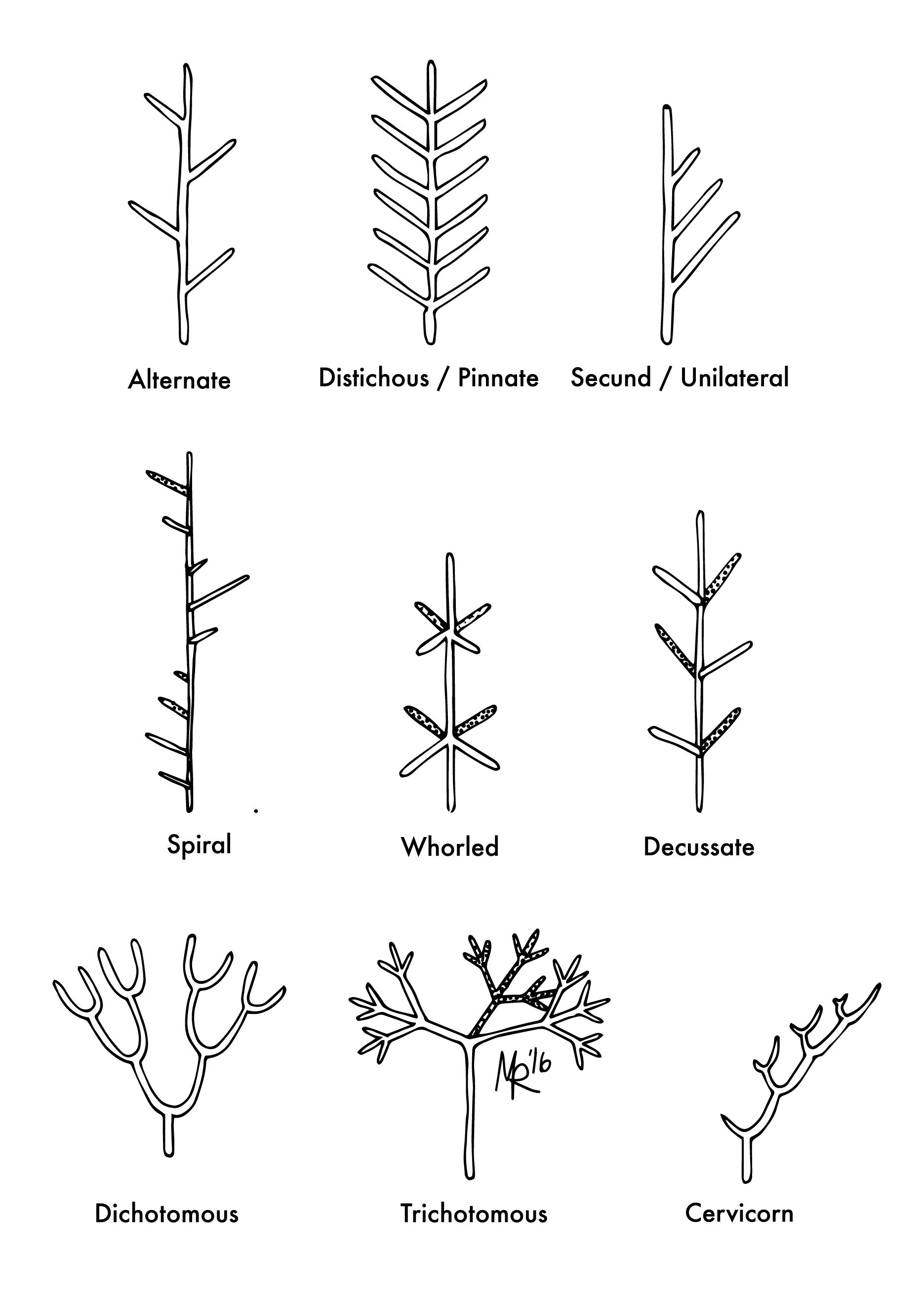 Branching Patterns
The branching patterns of algae, like the tetraspore arrangement, can be key to correctly identifying an alga. This diagram may be simple, but I love the way it conveys the information.
Turritopsis Life Cycle
The hydroid jellyfish Turritopsis dohrnii is known as the immortal jellyfish because at any stage in its medusa (free-swimming) life cycle it can settle back down to the ocean floor and develop a new sessile colony. This means that it is an incredible species for scientists looking at regeneration!
Clytia
Jellyfish are stunning, even at their smallest. However, trying to add shape and dimension to an organism that is essentially clear can be a definite challenge!
Obelia Diagram
I think Obelia might be one of my favorite hydrozoan jellies to watch. The spend a lot of time inverted and their tentacles can extend and contract alarmingly far.
Sea Anemone Anatomy
What I didn't realize before I drew this is that a sea anemone is really a sac of water. This allows for their huge variation in shapes in high tide and low tide and flexibility. It also makes understanding their anatomy quite challenging. This 3D cutaway aims to show students a lot in one fell swoop.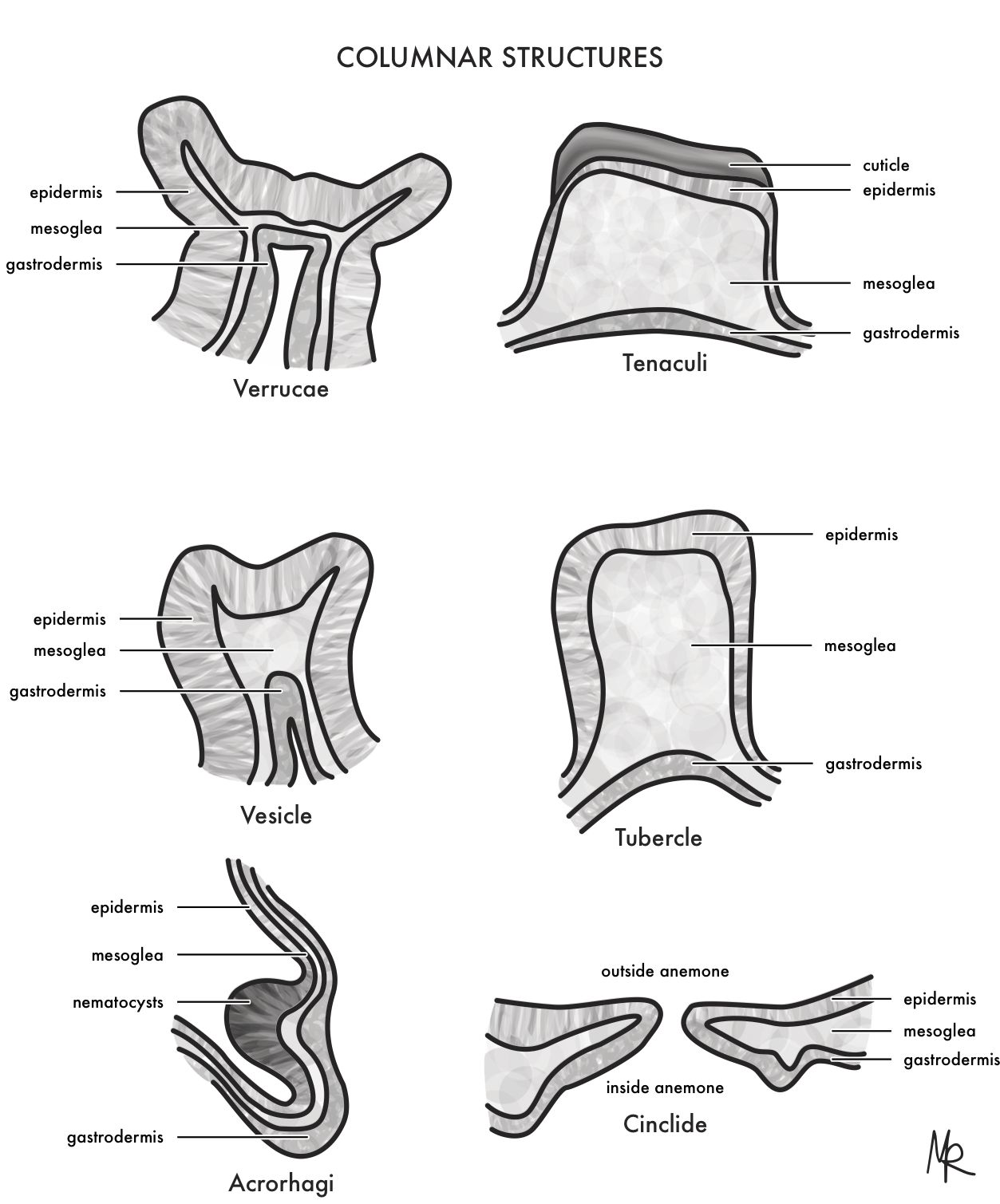 Sea Anemone Columnar Structures
This diagram was quite important for the glossary of terms. Many of these features look similar from the outside (basically bumps) but the arrangement of the tissue within is key to determining what they are.
Sea Anemone Mesentery Muscles
The walls of the sea anemone's body are called mesenteries. A key characteristic for identifying species is what the muscles of the mesenteries look like.
Sea Anemone Mesentery Arrangement
The arrangement of the mesenteries is also a characteristic that can help identify species. The top two show the most usual mesentery wall and tentacle arrangements. The bottom diagrams include pelagic and antarctic sea anemone arrangements which are quite different!
Sea Anemone Nematocyst Types
Sea anemones have stinging cells (which is why they're sticky and can leave rashes or burns). The variation in the types of stinging cells is huge, however, and hard to fully visualize from micrographs and SEMs if you're not an expert.
Structures of Sponges
This is an image for a grant proposal. All these families show a very clear morphological difference, but genetically they appear polyphyletic and we don't know why.
Symbiont Transmission Modes
How a sponge gets its symbionts is important for its life history and evolution. Here we show three differe methods over three generations.
Sponge Life Cycle
Understanding a multi-stage life cycle can be difficult, especially in sponges. Here you can see the symbiont bacteria from the parent entering the developing embryos as they mature.
3D tunicate structures
Tunicates are clonal organisms, which means there are lots of individuals (called zooids) living in a single large group. How the zooids are arranged can vary hugely from species to species and this can be key to identifying them.
Nemertean Bauplan
I love doing bauplan illustrations because even a "simple" organism has intricate complexities when you start to draw. This diagram took a lot of study and revisions, but the final result was worth it!
Stylet Apparatus
The stylet apparatus is a defining feature of the Nemertean phylum. It's a fairly complicated organ and this drawing took a lot of work to get right.
Nemertean Head Features
At a passing glance, most of the nemerteans or ribbon worms look the same. However, their head shapes, eye arrangments, and cephalic grooves are VERY different. This illustration aims to show some of the major groups and how different they are upon closer inspection.